As much as I wish I could take credit for creating this recipe, I can't. But because this recipe is so good, I just have to share it with you!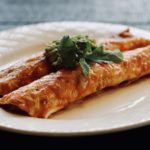 Print Recipe
Enchilada Sauce
Ingredients
1

15oz can

tomato sauce

1/2

red bell pepper

(diced)

1/2

onion

(diced)

3-4

cloves

garlic

2

tspn

chili powder

1

tspn

cumin

1/4

tspn

cayenne pepper

1

chicken bouillon cube

(you can also use tomato bouillon)

1

tbsp

flour

1/2

cup

chicken stock

1 1/2

cups

water
Notes
 Coat the bottom of a large deep pan with olive oil and sauté the onion, garlic, bell pepper and salt/pepper until slightly softened
 Add all of your spices to the pan, including your bouillon cube, stirring frequently to combine
Add flour and cook for about one minute
Add chicken broth, stirring until thickened
Add tomato sauce and water and bring sauce to a boil.  Add salt/pepper to taste and simmer for about 10 min
After about 10 min, remove sauce from heat and let cool slightly
Pour sauce into a blender and puree until smooth
The sauce is now ready to use right away, or you can divide it up into 3 small freezer bags to store in the freezer for later use
**TIP #1**
If you've frozen your sauce and are wanting to use it, thaw it out by placing the bag in your fridge or on your counter
When you're ready, heat the sauce in a sauce pot, whisking thoroughly until it is heated through…then you're ready to assemble your enchiladas!
**TIP #2**
While this sauce is AMAZING to store in your freezer, assembled enchiladas are not.  Do not assemble your enchiladas until you're ready to bake and eat them.  This will prevent your enchiladas from becoming sad and soggy.
**TIP#3**
My personal favorite enchilada filling is seasoned rice and black beans.  Not only are these items pantry staples, but they're super cost effective too!  You're of course welcome to fill your enchiladas with whatever you like…this sauce is perfect for any filling! 
Enchiladas are also a fantastic vessel to hide some healthy veggies in.  I've used chopped broccoli, grated zucchini, finely chopped baby spinach, or kale.  If you happen to get any questions on what the "green stuff' is (my husband likes this question), the answer is HERBS!
Enjoy this one!