Using yeast can be intimidating for some, but this focaccia is super easy and will boost your confidence in bread making! This is a great starter recipe and the best part is, you can top it with anything!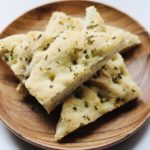 Print Recipe
Focaccia Bread
Ingredients
1

1/4 oz pkt

active dry yeast

1

tspn

sugar

2 1/2

cups

all purpose flour

(plus one extra tablespoon, separated)

2

tspn

kosher salt

1

tbsp

extra virgin olive oil

(plus more for the top of the bread)
Notes
Let your tap water run until hot, then fill a measuring cup with 1/4 cup of the hot water  
Add yeast, sugar and 1 tbsp of the flour into the hot water.  Let this mixture sit for 3-5 minutes.  You should be able to see the yeast get a little foamy.  After a few minutes, if all of the yeast is still granular, dump it out and start again
While the yeast is resting in the hot water, get the remaining 2 1/2 cups of flour and salt into the bowl of your stand mixer and stir until combined
Once your yeast mixture is foamy, add it to the flour mixture along with your olive oil and another 3/4 cup of hot water
Mix on a medium speed (using your dough hook) for about 8 minutes
NOTE: If you don't have a stand mixer, you can do this my hand.  Add the yeast, olive oil and extra hot water to your flour and mix with a wooden spoon until it comes together like a dough.  Remove the dough and hand kneed on a floured surface for about 8 minutes
Once your dough is ready, coat another large bowl with olive oil and transfer the dough, rolling it through the oil to coat
Cover with plastic wrap and cover that with a kitchen towel.  Let it sit for 1 1/2 hours to rise
Using a 9×13 baking dish, spray the bottom and sides with cooking spray
Once your dough has doubled in size, transfer the dough from the bowl and into the baking dish, gently stretching it out to fit the pan
Using your fingers, make some dimples all over the dough.  Cover with plastic wrap and a kitchen towel and let sit for about 1 1/2 hours.
Preheat your oven to 425
Once your dough has again doubled in size, drizzle olive oil on top of all of the dough, using a brush if you have one.  Cover the top with your favorite seasoning…I have a dry Garlic and Herb seasoning that is fantastic!  You could top it with sea salt and fresh herbs, or even some sea salt and any dried herbs you have on hand
Bake at 425 for 20-25 minutes
Remove the from oven and drizzle a little more olive oil on top. Slice any way you like and serve while warm
I love this bread as a snack, served with a side of Pomodoro or marinara.  It's also amazing as a base to a simple salad, dressed with olive oil and lemon juice.  I've also used this as a pizza dough and it was fantastic!  This is such a great versatile recipe to have on hand!