Spring Perfection.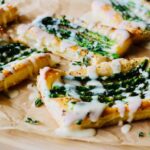 Print Recipe
Asparagus Tartlets
Ingredients
1

bundle

Fresh Asparagus

stemmed

1

pkg

Puff Pastry

2

tbsp

Butter

1

clove

Garlic

grated

1

tspn

Fresh Thyme Leaves (plus more to finish)

stemmed

Egg Wash
Cheese Sauce
1

tbsp

Butter

1

tbsp

Flour

1

tbsp

Dijon Mustard

1

cup

Half and Half

1

cup

Havarti Cheese

grated
Notes
Preheat your oven to 400
Pull out one sheet of puff pastry and let it thaw on the counter (this will take about 30-40 min)
Bend your asparagus spears until they snap.  Wash the tops and dry well.  You can keep the stems for soup later!
Melt your butter along with the grated garlic and thyme leaves, set aside
Once your pastry has thawed, open it up on top of your lightly floured board.  Roll it out just a little to even out the seams
Using a sharp knife, slice the pastry in half horizontally
Then make two vertical cuts to make 6 equal rectangles
Place your rectangles on a baking sheet lined with parchment
Using a fork, poke several holes into each pastry
Brush some egg wash along the edges of each pastry
Place 4-5 asparagus spears onto the middle of each pastry
Brush the tops of your asparagus with the melted butter, garlic and thyme
Sprinkle on some kosher salt and black pepper 
Bake at 400 for about 15min
While your tartlets are in the oven, you can make your cheese sauce
Melt your butter over medium heat
Add in your flour and whisk to fully combine
Pour in your half and half, whisking continuously until the mixture just begins to boil and has thickened
Once thickened, turn the heat off and add in your grated cheese, whisking to melt and combine.  Finish the sauce with a tablespoon of Dijon
Give your sauce a taste and add just a pinch of salt if needed
Once your tartlets are done, remove them from the oven.  Just before serving, drizzle your cheese sauce all over the tops of your tarts.  Sprinkle on a little extra thyme and enjoy!