This one has all of the comfort of a classic Risotto, loaded with the flavors of Spring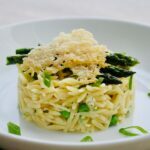 Print Recipe
Spring Orzo Risotto
Ingredients
1lb

box

Orzo Pasta

6

cups

Chicken Stock (low sodium)

2

tbsp

Butter

2

tbsp

Olive Oil

1

Shallot

finely minced

2

cloves

Garlic

finely minced

Fresh Thyme Sprigs

1/3

cup

Dry White Wine

I like a Pinot Grigio

1/2

cup

Freshly Grated Parmesan Reggiano

1

cup

Frozen Peas

Zest of One Lemon

Flat Leaf Parsley

Green Onion
Notes
For this dish, you'll need two cooking pans.  One deep sauce pot and one large, deep skillet.
Just like a traditional risotto, you'll need to stay close to the stove while this one is cooking. Because it requires frequent stirring, I like to prep all of my ingredients before I get started.  Make sure your shallot and garlic are finely minced; green onions are sliced up; Parmesan is grated; peas are out of the freezer and your herbs are ready to go.  This will make this easy cooking process even easier and allow you some free time to sip on the extra wine while you stir!  
Using a deep sauce pot, get your stock in and up to a simmer – you'll want to keep it simmering until you've used up all of this liquid
In a separate large, deep skillet, melt your butter along with your olive oil, on medium high heat
Once heated, add in your shallot and stir around to coat it well in the butter and oil
Add in your garlic, several fresh thyme sprigs and your orzo . Generously season with salt and pepper. Stir until your pasta is lightly toasted, about 5 minutes
Once your orzo is toasted, turn the heat down to medium
Pour in your wine (I prefer to remove my skillet from the flame before I add my wine…I don't want any flame-ups in my kitchen!)
Stir your orzo until all of the wine has been absorbed
Begin adding some stock to your orzo, about 1 – 1 1/2 cups at a time.  Stir your orzo frequently and let all of the stock absorb into the pasta before adding in additional stock, until all 6 cups have been used.  The cooking process will take about 15 minutes
Once all of your stock has been absorbed, give it a taste and make sure that the orzo is fully cooked and check the seasoning, adding additional salt as needed
Turn the heat off and remove your thyme stems
Add in the zest of your lemon, flat leaf parsley, the parmesan reggiano and peas, stirring to combine
Top your finished risotto with your green onions and it's ready to serve!
This risotto is a fantastic side to a protein of your choice, or I like to serve it as a main course along with some vegetables – my favorites are roasted asparagus or steamed broccolini