Chili and Noodles is the ultimate pantry dish. With the main ingredients being your favorite can of chili and a box of Pasta, this is a great thing to make when your fresh foods are running low and you're not quite ready to venture out for another store trip. It is a knockoff of sorts to Cincinnati Chili and it's something that we ate a lot of when I was a kid.
Obviously, you can make your own homemade chili to serve over noodles, but if things are tight, there are some great canned options to use, including vegan/vegetarian varieties.
When we're using canned goods, I always like to add something to freshen it up a bit. In this case, I added a small amount of butter to the chili to loosen it up. I also used chopped white onions, lots of freshly grated cheese and topped it with cilantro – which makes all the difference!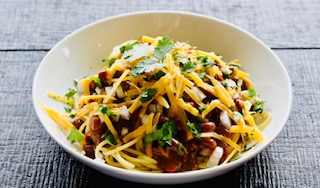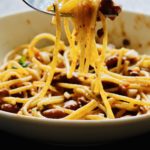 Print Recipe
Chili and Noodles
Ingredients
1

can

Chili

1

box

Spaghetti

(small shells are also a great option)

Chopped White Onion

Freshly Grated Cheddar Cheese

Chopped Cilantro
Notes
Cook your spaghetti according to the package directions.  Warm up your canned chili along with a small pad of butter.  Once warmed through, spoon it over your cooked noodles.
Top each serving with your chopped onions, grated cheddar and cilantro.  Serve piping hot!