In my opinion, this is the only way to eat Lasagna. You'll get all of the same goodness as traditional lasagna, but they're made for individual servings, which means they double as a fantastic freezer meal!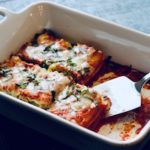 Print Recipe
Lasagna Roll Ups
Ingredients
1

box

Lasagna Noodles

15oz

Ricotta Cheese

1/2

White Onion

3

cloves

Garlic

1

tspn

Chili Flakes

1

cup

Zucchini

1

cup

Spinach

1

cup

Freshly Grated Parmesan Cheese

(plus a little extra for the tops)

2

cups

Mozzarella
Notes
Bring a large pot of water to a rolling boil.  Heavily season with salt and cook your lasagna noodles for around 6-7 minutes.  You want them soft and pliable, but you do not want to cook them all of they way as they will finish cooking in the oven
Drain your noodles and lay them flat onto a plate or tray to cool
Preheat your oven to 350
PREP
Using the back side of your box grater, grate the zucchini on top of several layers of paper towel.  Wrap your grated zucchini in the towel and squeeze out all of the water.  You can reserve this water if you'd like to flavor soups.
Finley chop your onion, garlic and spinach
Using a saute pan, coat the bottom with oil and cook your onions and garlic, season with salt, pepper and your chili flakes.  Cook until slightly softened – about 2 minutes.  Remove from heat to cool
Using a medium sized bowl, add your ricotta, grated zucchini, chopped spinach, cooled onions and garlic and 1 cup of parmesan.  Season with salt and stir until fully combined
Taste your mixture for seasoning and add more salt as needed – you want this mixture to be very well seasoned
Preheat your oven to 350 and coat the bottom of your baking pan with your favorite jar of marinara sauce
Taking one noodle at a time, spread a layer of your filling (reserving about an inch at the top) and top that with grated mozzarella.  Beginning at the bottom, begin to roll up the noodle, placing it seam side down in your sauce coated baking pan.  
Repeat this process until you get your desired amount of lasagna rolls.
Top each lasagna roll with a spoonful of sauce and top that with more mozzarella and your remaining parmesan.
Cover your pan with foil and bake at 350 for 20-30 minutes.  Remove the foil and broil until the cheesy top gets golden.
FOR THE FREEZER
If you're making these for a make ahead meal, I like to use disposable foil pans.  I make each pan just as I would for that nights meal, coating the bottom of the pan with sauce, before placing my desired amount of lasagna rolls.  Top them with sauce and cheese, before putting on the lid and placing the whole tray into a large freezer bag.
When you're ready to bake them, preheat your oven to 350.  Remove your pan of lasagna rolls from the freezer bag and cover with foil.  Place it onto a sheet pan and bake for 45 minutes to an hour.  Remove the foil and broil until the tops become golden