Weekends at our house are reserved for pancake breakfasts, and these Lemon Pancakes are a big hit! They are so thick and fluffy, you'd never know there were no eggs used in this recipe!
My favorite way to serve these pancakes is with a big pad of butter, topped with fresh macerated berries. These are seriously so good!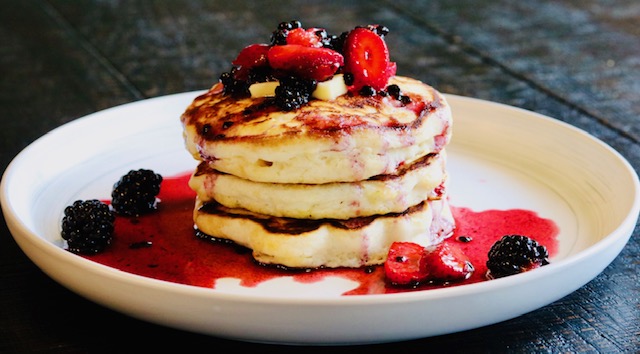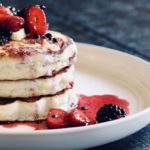 Print Recipe
Lemon Pancakes
Ingredients
1 1/2

cups

Flour

3 1/2

tspn

Baking Powder

2

tbsp

Sugar

1/2

tspn

Salt

1 1/4

cup

Milk

3

tbsp

Melted Butter

1

tbsp

Lemon Extract (optional)

1

tbsp

White Vinegar

Zest of one Lemon
Notes
Add flour, baking powder, sugar, salt and the zest of one lemon into a large bowl, whisking to combine
Add milk, lemon extract (if using) and white vinegar into a separate smaller bowl
Make a well in the center of your dry ingredients and pour in your melted butter, followed by the rest of your wet ingredients.  Whisk gently to fully combine – Do not over mix
I like to use a 1/3 cup measure to pour my batter into a greased pan.  After you pour your batter, spread it out just a bit with the back of your measuring cup or spoon, but do not spread it out too thin.  Using Meduim/Low heat, cook each pancake until golden brown on the bottom, before flipping it over to brown on the other side.
Keep cooked pancakes in a warm oven until you're ready to serve.
This recipe will give you about 6 super thick pancakes.  I'd say each adult would probably eat two…so if you're feeding a crowd, you may want to double up on this recipe.