I just LOVE roasted Asparagus! It's a simple and quick way to cook up this healthy side dish!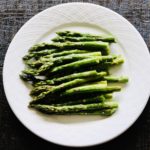 Print Recipe
Roasted Asparagus
Ingredients
1

bunch

Fresh Asparagus

Olive Oil

Kosher Salt

Black Pepper
Notes
Preheat oven to 400
Hold each stalk of Asparagus at both ends.  Bend until it breaks (This is a great job for your kids to do!).  Place the tops on a baking tray and discard the stalks – or reserve them for later to flavor your soups!
Drizzle Olive Oil on top of your Asparagus tops and season with Kosher Salt and Black Pepper.  Toss to combine.
Bake at 400 for 8 minutes for standard sized Asparagus – If you have the super thin pencil Asparagus, you'll only need 5 minutes