This dish is picnic perfect! It is wonderful at room temp, so it's the perfect accompaniment to any outdoor grilling or to pack along with a sandwich on your next hike!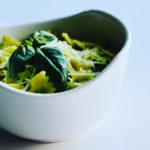 Print Recipe
Farfalle with Pea Pesto
Ingredients
1

box

Farfalle Pasta

1 1/4

cup

Frozen Peas

(thawed)

3

sprigs

Lemon Thyme

(you can substitute with Basil)

2

cloves

Garlic

1/2

cup

Olive Oil

1

cup

Freshly Grated Parmesan

3/4

cup

Reserved Pasta Water

(optional)
Notes
Cook your pasta is heavily salted water, according to the package directions.  Reserve 3/4 cup of the pasta water prior to draining.
Using your food processor, add Peas, Lemon Thyme, Garlic, Parmesan, along with salt and pepper.  Turn your processor on and begin to drizzle in your olive oil.  Taste for seasonings and add additional salt/pepper as needed.
Add your Pea Pesto to your drained pasta and stir to combine.  If you like, add some of your reserved pasta water – this will give your pasta more of a creamy texture.