There's nearly nothing more comforting than an old fashioned Pot Pie. Trust – these are not like the frozen variety. This is a surprisingly easy recipe that hits the spot every time.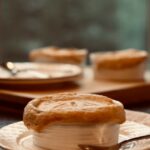 Print Recipe
Vegetable Pot Pie
Ingredients
4

tbsp

Butter

1/2

Yellow Onion

Finely Diced

1

cup

Celery

Finely Diced

1/4

cup

Carrot

Finely Diced

1

large

Yukon Gold Potato

Cubed

1/4

cup

Frozen Peas

2

tbsp

Fresh Sage Leaves

Minced

1

tspn

Fresh Thyme

1

tspn

Fresh Rosemary

Minced

1

Bay Leaf

1

Chicken Bouillon Cube

1/4

cup

Flour

2

cups

Chicken Stock

1

cup

Half and Half

Egg Wash
Pie Crust
2 1/2

cups

All Purpose Flour

1

tbsp

Sugar

1

tspn

Salt

1

cup

Cold Butter (2 sticks)

cubed

10-14

tbsp

Ice Water
Notes
Using a deep skillet or pan, melt your butter and saute your onion, celery, carrot and potato, along with your bouillon cube, to slightly soften your veg – 2 to 3 minutes
Add in your flour and stir to fully combine
Pour in your chicken stock, add in your herbs and stir well, until thickened
Once thickened,  pour in your half and half, stirring to combine
Allow the sauce to bubble up, then turn the heat to low for about 5 minutes, stirring often
After 5 minutes, turn the heat off and add in your frozen peas
If you're making this portion ahead of time, you can cool this mixture completely and store in the fridge until you're ready to assemble and bake your pies
Pie Crust
Using your food processor, add your flour, sugar and salt.  Pulse to combine
Add your cold cubed butter and pulse a few times to begin to break it up
Begin adding ice water, 2 tablespoons at a time, pulsing the mixture in between
After about 10 or so tablespoons, you'll begin to see the dough come together in the processor.  When it's ready, it'll be slightly crumbly looking, but you should be able to easily pinch together some of the dough with your fingers.  If you're not there yet, add more water, one tablespoon at a time
Once the dough is ready, dump it out on a lightly floured surface and bring it into a ball
Using a floured rolling pin, roll out the dough to roughly 1/4 inch
Cut out your shape slightly larger than what you'll be baking your pot pie in, so you get that delish and crunchy overhang
If you're making the dough ahead of time, store the cut outs on lightly floured parchment, sealed in a zip lock bag.  Keep these in the fridge until you're ready to assemble.
Assembling Your Pies:
Fill your ramekins or pie dish with your vegetable sauce, leaving a bit of room at the top
Top your ramekins or pie dish with your uncooked pie crust (if you're working with a warm sauce, work quickly as the heat will begin to melt your dough), pressing down gently around the edges
Brush the top of your crust with egg wash and cut some vent holes in the top using a paring knife
Sprinkle the tops with flaky sea salt, if you've got it
Place your assembled ramekins or pie dish onto a baking sheet to be sure you catch any drippings
Bake at 375 for about 30 minutes, or until your crust is a beautiful golden brown