Each year, these cupcakes are the first thing that I make when the weather begins to turn and you get those perfect crisp mornings. Fall is my favorite season and these are the perfect lead-in to all of the cozy cooking to come!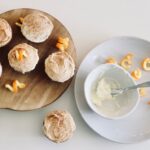 Print Recipe
Chai Cupcakes
Ingredients
1 1/2

cups

All Purpose Flour

1/2

cup

Granulated Sugar

1/2

cup

Light Brown Sugar

1

tsp

Baking Soda

1/2

tsp

Salt

1/2

tsp

Cinnamon

scant 1/2

tsp

Ground Ginger

scant 1/2

tsp

Ground Cloves

scant 1/2

tsp

Cardamom

3/4

cup

Milk

1/2

cup

Canola Oil

1

tbsp

Vanilla Extract

2

tbsp

White Vinegar
Notes
Preheat your oven to 350 and line or grease your cupcake tin
Sift together all of your dry ingredients into a large bowl
Using a separate bowl, combine your milk, oil, vanilla and vinegar
Pour your wet ingredients into your dry and fold to fully combine
Fill each cupcake liner about 3/4 of the way to the top.  Bake at 350 for around 18 minutes or until a toothpick inserted into the center comes out clean
Once done, place the hot cupcakes onto a cooking rack and cool completely before frosting.
I like to top my Chai Cupcakes with a simple buttercream (store bought or homemade) that includes the zest of 1/2 orange and a small splash of fresh orange juice.