Thanks to my Aunt Sharon, I've been enjoying these cuties nearly my whole life.
Fun fact: It's impossible to eat just one. Impossible.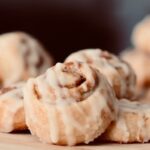 Print Recipe
Mini Cinnamon Rolls
Ingredients
1

can

Crescent Roll Dough

2

tbsp

Softened Butter

2

tbsp

Sugar

1

tspn

Cinnamon

3/4

cup

Powdered Sugar

2

tbsp

Melted Butter

1-2

tbsp

Water

Small Splash of Vanilla Extract
Notes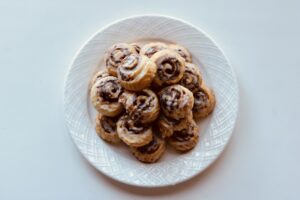 Preheat your oven to 350 and line a baking sheet with parchment
Combine your sugar and cinnamon into a small dish/bowl and mix well
Open your dough and begin to unroll it, tearing it in half along the middle perforated line
Working with one half of the dough at a time, pinch the diagonal perforation lines together to create a seamless sheet of dough
Spread half of your softened butter all over your half sheet of dough, leaving about 1/2″ at the top
Sprinkle half of your cinnamon/sugar mixture over the butter
Begin to tightly roll your dough up to the end and gently pinch it together
Using a sharp knife, slice the roll into roughly 1/2″ pieces 
Place each cinnamon roll onto your baking sheet, at least an inch apart
Repeat this process for the 2nd piece of dough
Bake at 350 for 10 minutes, or until the edges are lightly browned.  Let them sit for just a couple of minutes before transferring them to a cooling rack.
For the icing, combine your powdered sugar, melted butter, 1 tbsp of water and a tiny splash of vanilla, whisking until thick but smooth – If it's too thick, add a little more water.  Using a spoon, drizzle your icing all over the top of your baked cinnamon rolls. 
If you can, let them sit for an hour or so to allow the icing to set before packaging them up – or eating them…all at once.
If you do end up with any leftovers (don't worry, you probably won't), store them in an air tight container.  Enjoy!