Chickpea (aka Garbanzo Bean) Salad is a great alternative to egg salad. Did you know that chickpeas actually have more protein than eggs? They are also full of fiber as well as a variety of other vitamins and nutrients.
Chickpeas are super versatile. They are great roasted for a crunchy topping to a green salad, or just for a snack. I love them in soups and chili and I always have them on hand.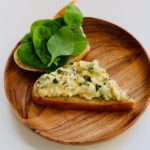 Print Recipe
Chickpea Salad
Ingredients
1

can

Chickpeas (Garbanzo Beans)

Drained and Rinsed

1/4

cup

Finely Diced Red Onion

1/4

cup

Chopped Dill Pickle

1/2

cup

Mayo

(You can use Vegan Mayo)

1

tspn

Yellow Mustard
Notes
Chickpeas have a clear and very thin skin on them.  They are 100% edible, but personally, I'm not a fan.  When I make this salad, I always remove the skins first.  You can do this by submerging the Chickpeas in water and swirling them around.  You can also wrap them in paper towels and rub on them and the skins should come right off.  I am a perfectionist, so I remove the skins one by one…but this is totally optional.
Rinse and drain your chickpeas, placing them into a medium sized bowl
Using a fork, give them a good smash until they reach your desired texture – I like there to be a little bite left to them, so I do just a slight mash
Add your finely diced onion, chopped pickles, mayo and mustard and stir until fully combined
Season with salt/pepper to taste
When I make any kind of sandwich, I love the half-toast method.  I put my bread in the oven broiler and toast just one side – This prevents your mouth from getting scratched up but still provides stability for your toppings so you don't get soggy bread!  For this particular sandwich, I add a good layer of Chickpea Salad to the toasted side of my bread and top it with whatever fresh greens that I have on hand.  You'll be surprised at how similar this tastes to traditional egg salad!