This is the perfect cocktail to serve outside in the sun!
Pimms is in the Gin family but it has a lot of herbal notes. It actually reminds me of a kicked up iced tea. It is probably most known for the London favorite, Pimms Cup, which is often served with ginger beer and cucumber.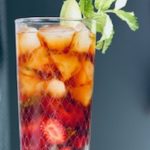 Print Recipe
Pimms Refresher
Ingredients
Pimms

Lemon Lime Soda

Strawberries

Lime

Fresh Mint
Notes
Slice up a couple of strawberries and add them, along with a few sprigs of mint to the bottom of your class.  Fill your glass with ice and muddle (if you don't have a muddler, just use the bottom end of a wooden spoon).  Pour the Pimms about half way up your glass, filling the rest with your lemon lime soda.  Give it a fresh squeeze of lime and you're set!
I've made big pitchers of this for summer gatherings and have used a variety of fruits – Oranges, raspberries, lemons and limes…really, anything goes!