I am a lot of things, but a cake decorator is not one of them. I usually avoid cakes at all costs because, truth be told, I'm intimidated by frosting an entire cake. Cupcakes? No problem. Big cake? Big problem.
My Husband asked me one day to make a Raspberry Chocolate Cake. I initially laughed, but after thinking about how good that sounded, I decided to give it a go. I knew I had a solid Chocolate Fudge Cupcake recipe that I could use as my base. By changing the baking time and exchanging a few ingredients, I thought it could work.
It not only worked, it was a HOME RUN!
This cake is incredibly simple and after making it, I really don't see a way that anyone could mess it up – except for maybe over cooking it. I topped it with Ganache, which basically ices the cake all by itself perfectly, which meant that I didn't need to do anything for it to look gorgeous! The finished product made me feel like a real deal cake maker! Lesson learned: Venture out of my comfort zone once in a while because I may find my new favorite thing!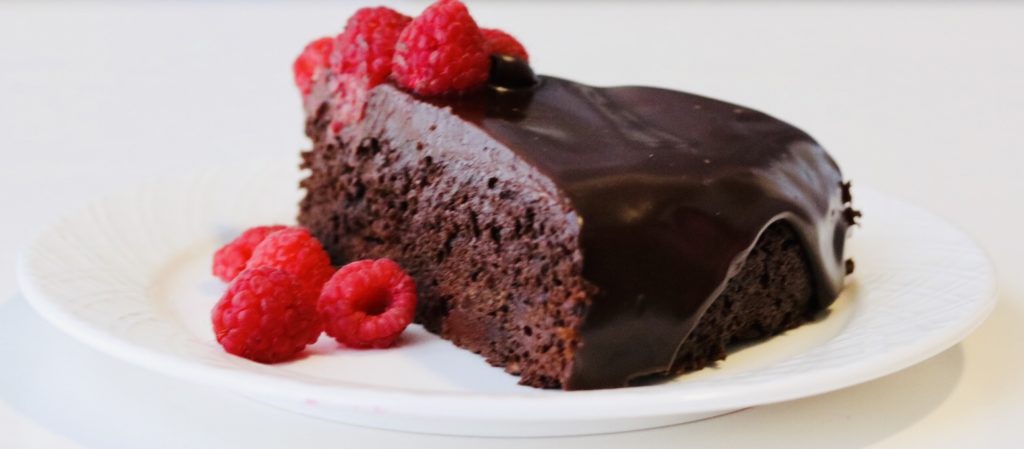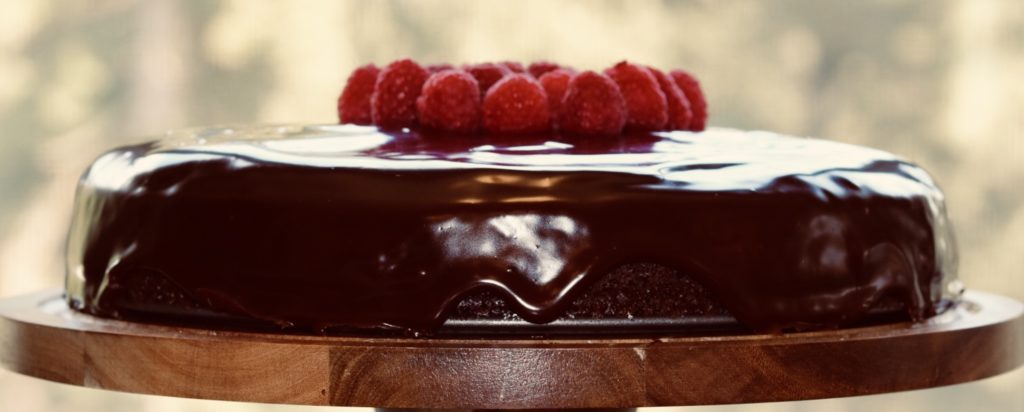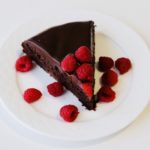 Print Recipe
Raspberry Chocolate Cake
Ingredients
1 3/4

cup

All Purpose Flour

1 3/4

cup

Sugar

3/4

cup

Unsweetened Cocoa Powder

1/2

tspn

Baking Soda

1

tspn

Baking Powder

1

tspn

Salt

1

cup

Milk

1/2

cup

Canola Oil

2

tbspn

White Vinegar

1

tspn

Vanilla Extract

1

cup

Freshly Brewed Coffee

1 1/2

cup

Fresh Raspberries

plus more for the topping
Chocolate Ganache
1 1/3

cup

Semi-Sweet Chocolate Chips

1

cup

Heavy Whipping Cream
Notes
For the cake:
Preheat your oven to 350.  Spray or grease a 10″ springform cake pan
Combine your flour, sugar, cocoa powder, baking soda, baking powder and salt to into a large bowl and whisk together
In a smaller bowl, combine milk, oil, vinegar, vanilla and coffee
Pour the wet ingredients into the dry mixture and whisk until fully combined.
Gently fold in about half of your raspberries  
Pour your batter into your greased springform pan.  Dot the top with your remaining raspberries and slightly push them into the top of the batter 
Bake at 350 for about 40 minutes, or until a toothpick inserted into the center comes out clean – do not over cook!
Remove from oven and let cool before releasing the spring.  Let your cake cool completely before topping with Ganache.
Ganache:
Place your chocolate chips into a large bowl
Using a sauce pot, heat your heavy whipping cream until just before it boils
Pour the hot whipping cream over your chocolate chips and cover with a lid for 5 minutes, trapping the heat to allow the chocolate chips to melt
After 5 minutes, whisk the cream and chocolate chips together.  This will take some time…it will be very thin at first, but the longer your whisk, the thicker and more incorporated it will become
Once the cream and chocolate is fully combined and thickened, let it sit in the bowl, uncovered, for about 10-15 minutes so it can cool and firm up
Pour your Ganache on top of your cooled cake.  Using an offset spatula or butter knife, gently spread the ganache, letting it drip down the sides of your cake.
Let the cake set for at least an hour to allow the ganache to set.  Top your gorgeous cake with fresh raspberries, take a beautiful photo and do your best not to eat the whole cake in one sitting!