My Grandma Reba was one of the most amazing women to have ever lived. I am so thankful that I was able to spend so much time with her.
Grandma Reba cooked everything from scratch, including Chicken and Dumplings. She would spend the morning breaking down a whole chicken and begin the dish by making her own stock. The process was long, but it was oh so worth it!
Now that I make this on my own, I have my own take. First of all, lets be honest…there is no way this vegetarian is breaking down a chicken or making my own stock. Just by skipping this step, I've turned an all day process into one that takes about 30 minutes, without missing out on any of the deliciousness of the meal. However, you'll notice that I actually do not put chicken in my version. I am a vegetarian, but my husband is not. A good replacement is a super easy rotisserie chicken from your grocery store. Just shred it up and add it into your stock.
The biggest thing missing from this one is my Grandma's love, but it's been replaced with mine. I hope you enjoy this one.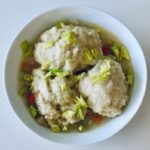 Print Recipe
Grandma Reba's Dumplings
Ingredients
1/2

Large White Onion

(finely diced)

1 1/2

cups

Celery

(chopped, with the leaves reserved)

1/2

cup

Carrots

(chopped)

8

cups

Chicken Stock

2

cups

Bisquick

2/3

cup

Milk
Notes
Coat the bottom of a dutch oven or large stock pot with olive oil
Saute your diced onion and chopped celery and carrots to begin to soften (about 2 minutes) and season with salt/pepper
Add your chicken stock and bring to a boil (taste for seasoning now and add more salt/pepper as needed)
In a large bowl add your Bisquick and make a well in the center
Pour in your milk and begin to stir with a fork, beginning in the center and working your way out.  Do not overmix
Once your stock is boiling, begin taking spoonfuls of the dough and submerging it into the stock until it slides off your spoon.  Repeat the process until all of your dough has been used
Simmer for exactly 10 minutes without a lid
Once 10 minutes have passed, put on a tight fitting lid and let simmer for another 10 minutes – DO NOT LIFT THE LID until your time is up
After the 10 minutes are up, turn off the heat and remove the lid
Sprinkle your reserved celery leaves on top for some added freshness and enjoy every pillowy bite.