The only thing better than a homemade Blueberry Muffin is a homemade Lemon Blueberry Muffin! The Streusel is the perfect topping for these perfect muffins!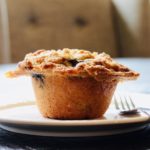 Print Recipe
Lemon Blueberry Streusel Muffins
Ingredients
Muffins:
2 1/4

cups

all purpose flour

3/4

cup

sugar

1

tspn

baking powder

1/2

tspn

baking soda

1/2

tspn

salt

1

cup

milk

1/2

cup

canola oil

1

tbsp

lemon extract

(you can use vanilla if you only have that on hand)

zest of 3 lemons

1/4

cup

freshly squeezed lemon juice

1

cup

frozen blueberries
Streusel
1/2

cup

all purpose flour

1/2

cup

sugar

1/2

cup

packed light brown sugar

6

tbsp

melted butter
Notes
Preheat your oven to 400 and line or grease your muffin tins.

 

FOR THE MUFFINS:
Using a large bowl, whisk flour, sugar, baking powder, baking soda and salt to combine.
In another bowl, add milk and canola oil. Make sure to keep the lemon zest, juice and extract separate from the milk.
Pour the milk and oil into the flour mixture and slightly fold in the flour. Add the lemon ingredients, along with the frozen blueberries, gently folding until the mixture is fully combined.
FOR THE STREUSEL:
Combine flour and sugars together and mix well with a fork. Add the melted butter and lightly stir the mixture with your fork until all of the flour is combined.
Spoon the batter into your muffin tins, about 3/4 way to the top. Using your fingers, crumble the streusel on top of the batter until it's completely covered (you may not use all of the streusel topping)
If you're baking these in jumbo muffin tins, bake for 30 minutes or until a toothpick insterted into the center comes out clean.
If you're using cupcake tins, bake for 15 minutes or until a toothpick inserted into the center comes out clean.
**TIP #1**
Always rotate your pans half way through the baking process to allow for even cooking
**TIP #2**
When I make these muffins, I always place the filled muffin tin on top of a baking sheet before placing it in the oven. This makes sure that any juicy drippings fall on the pan and not in your oven.
**TIP 3#**
Because these muffins are so light and fluffy, once they're done baking, you'll want to let them cool in the tins before you transfer them to a rack. Also, if you end up with an amazing streusel skirt on top of your tin, use a small knife to loosen the edges from the pan while its still warm to prevent sticking.