Did you know that you can make this DOUBLE batch of pie crust in under 10 minutes and for less than $2?
Not only is this so easy to make, but you can make just about anything with it! You can of course use it for a pie. You can cut out rounds and make mini fruit hand pies. You can let the kiddos roll it out, cut it into their favorite shapes, brush on some melted butter, sprinkle with cinnamon/sugar and bake it for some fun and cute pie crust cookies!
Or, you can take it savory! Add some herbs to your dough and use it as a soup or pot pie topper. You can make meat and sauce filled hand pies…my daughter LOVES to make her own using her favorite pizza ingredients. The possibilities really are endless!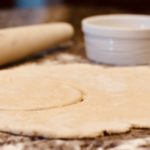 Print Recipe
Pie Crust
Ingredients
2 1/2

cups

all purpose flour

1

tbsp

sugar

1

tspn

salt

1

cup

cold butter

(2 sticks)

10-12

tbsp

ice water
Notes
Add flour, sugar and salt to a food processor and pulse to combine
Cut your cold butter into cubes and add to the flour mixture
Give that a few pulses to break up the butter, just a little
Begin adding your ice water, 2 tablespoons at a time and pulsing in between. Keep adding ice water and pulsing until the dough starts to come together (you may not need all of the water).
NOTE:  You're not looking for a hard dough.  When it's ready, the dough may look a little crumbly, but you'll be able to pinch some dough with your fingers and have it stick together
Once the dough is ready, remove it from your processor and divide it into two equals.  Using your hands, form each portion into round disks.  Wrap each disk tightly with plastic wrap and either place them in the fridge, if you'll be using it soon, or put the wrapped dough into a freezer bag to freeze for later use.