These cupcakes are the epitome of Spring! No matter the season, these cupcakes will have you seeing sunshine!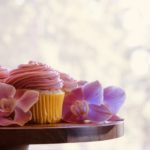 Print Recipe
Lemon Cupcakes
Ingredients
2

cups

all purpose flour

3/4

cup

sugar

1

tspn

baking powder

1/2

tspn

baking soda

1/2

tspn

salt

1

cup

milk

1/2

cup

canola oil

zest of 3 lemons

1/4

cup

freshly squeezed lemon juice

1

tbsp

lemon extract
Notes
Preheat oven to 400 and line your muffin tin
Using a large bowl, add flour, sugar, baking powder, baking soda and salt, whisk until combined
Using a separate bowl, combine lemon zest, juice and extract
Pour the milk into the dry ingredients and mix slightly  
Add the lemon ingredients, folding the batter until fully combined
Fill your muffin tins about 3/4 of the way to the top.  Bake cupcakes for 15 minutes, or until a toothpick inserted into the center comes out clean.  
Top with your favorite store bought frosting, or my favorite is a lemon cream cheese frosting!