This is an amazing quick bread that doesn't over do it with sweetness. Top it with fresh fruit for a satisfying breakfast or enjoy it for a mid-day snack!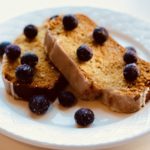 Print Recipe
Orange Olive Oil Bread
Ingredients
2

cups

all purpose flour

1

tspn

baking soda

1

tspn

baking powder

1/2

tspn

salt

1/2

cup

extra virgin olive oil

3/4

cup

honey

3/4

cup

water

zest of 2 oranges

1/4

cup

freshly squeezed orange juice

1

tbsp

vanilla extract

(you could also use a citrus extract, if you have that on hand)
Notes
Preheat oven to 350 and grease your bread pan
Using a large bowl, add flour, baking soda, baking powder and salt, whisk until combined
Using a separate bowl, add oil, honey, water, orange zest, orange juice and your extract
pour the wet ingredients into the dry and gently fold until combined
Pour batter into your greased bread pan.  Bake for 55-60 minutes, or until a toothpick inserted into the center comes out clean.  Let the bread cool in the pan for a few minutes before transferring it to a cooling rack.  Let bread cool completely before slicing.
OPTIONAL:  I like to add a simple glaze on top of my cooled Olive Oil Bread.  Just combine 2 cups of powdered sugar with a splash of vanilla or citrus extract and your choice of melted butter or water (vegan option).  Mix thoroughly until smooth, but thick.  Pour over the top of your cooled bread and let it set.
**TIP**
Always rotate your pans half way through the baking time to allow for even cooking