My husband and I were lucky enough to spend a couple of days in Italy a few years ago. We spent one unforgettable day in Capri and got to dine at the famed La Capannina. After devouring their Ravioli alla Caprese, I knew that the only "souvenir" I needed from Capri was their Pomodoro recipe.
Everytime I make this sauce, the memories of our short trip come flooding back. This sauce is "Perfezione" (perfection)!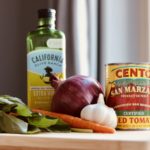 Print Recipe
Pomodoro
Ingredients
1

28oz can

whole peeled tomatoes

4

cloves

garlic

1

large

red onion

1

large

bunch of basil

1

carrot

(peeled and cut in roughly 3″ pieces)

extra virgin olive oil
Notes
Peel and half your onion and carrot
Coat the bottom of a large pan with olive oil and sauté garlic until fragrant, about 2 minutes
Add your can of tomatoes, onion, carrot and basil.  Season with a generous amount of salt and if you like a kick, add some crushed red pepper flakes!
Break up the whole tomatoes with your spoon and simmer for about 30 minutes
Remove sauce from heat to slightly cool
Remove onion, garlic, carrot and basil.  Add the sauce to your blender and puree until smooth
At this stage, the sauce is ready to use right away, or you can divide it up into small freezer bags to use later.  This Pomodoro is not only perfect for any kind of ravioli, tortellini, penne…but it also makes a GREAT dipping sauce!  If you have some crusty bread, warm some of this up from your freezer and it makes a fantastic side!
Note:
My grocery store splurge is always the real deal Parmigiano Reggiano.  No other Parm compares! I always store the rinds in my freezer and use them in soups or sauces…including this one!  I just add the rind in with the onion, carrots and basil and let it simmer with the sauce, removing it before I blend.
Typically, you can always add your choice of meat to most of my main dish recipes…however, I do not recommend adding meat to this sauce.  This Pomodoro is perfectly thin and light and I don't think its hearty enough for meat.