If I could only eat one thing for the rest of my life, it would be this pasta right here!
This Lemon Pasta with Green Beans will easily feed up to 8 people…EIGHT! It costs less than $5 to make (.60 per serving!) and it just takes minutes to prepare.
Don't have green beans on hand? Switch them out for steamed frozen broccoli, or roasted asparagus, snap peas…you could use anything you currently have in your fridge/freezer!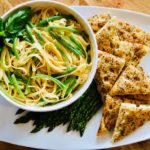 Print Recipe
Lemon Pasta with Green Beans
Ingredients
1

package

your favorite long pasta

(I used fettuccine)

2

lemons

olive oil

fresh green beans

(don't use canned for this)
Instructions
Trim the ends off of your fresh green beans. I like to split them down the middle, but you don't have to.

Cook your pasta in heavily salted water.

Cook your green beans in boiling water for about 6-7 minutes. If you're good at timing, you can just throw them in with your pasta (this never works for me).

Using a small bowl, zest both lemons and add about 1/2 cup of lemon juice. Pour about 1/4 cup of olive oil in with the lemon juice and set aside.

Drain your pasta and put it back into the hot pot. Add the cooked green beans and pour the lemon/olive oil on top. Season with a generous about of salt and stir thoroughly.

If you have any parm or some fresh herbs on hand that you need to use up, that would be delish too!