The difference with a Sicilian style pizza is all about the crust – It's similar to a thick crust or a pan style pizza, with a texture that is super soft and light. You can go all of the way traditional with the square pizza pan and sauce on top, or you can hand form this dough into any shape you'd like. Have fun with it – It's pizza night!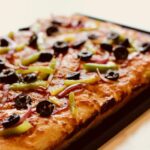 Print Recipe
Sicilian Style PIzza
Servings:
1
Traditional 9″x13″ Pizza Pan or 2 9″ round pizzas
Ingredients
3.5

cups

00 Flour

(no subs in the type of flour)

1

pkg

Active Dry Yeast

1

tspn

Kosher Salt

1

tbsp

Olive Oil

1/2

cup

Very Warm Water

1

tspn

Sugar

1

cup

Warm Water
Notes
Start by filling a liquid measuring cup with 1/2 cup of very warm water
Add in your packet of yeast and 1 tspn sugar – Set aside for about 5 minutes to allow the yeast to bloom.  If your yeast does not foam up, it's not good and start again with fresh water and a new packet of yeast
While your yeast is blooming, spoon measure 3.5 cups of 00 flour into your stand mixer's bowl – Normally in many recipes your can substitute for another kind of flour, but not for this particular recipe
Add 1 tspn of Kosher Salt to your flour and whisk to combine 
Pour your bloomed yeast/water mixture into the flour and add 1 additional cup of warm water and your tablespoon of olive oil
Begin by mixing these ingredients using a wooden spoon or rubber spatula, before attaching your dough hook and machine kneading for about 5 minutes (00 flour is so fine and light that your dough hook will not be able to pick up all of the flour on it's own – which is why you'll need to first mix it by hand)
Once all of the ingredients are fully combined and it's kneaded for roughly 5 minutes, scrape out the dough using your wooden spoon or rubber spatula onto a lightly floured surface – The dough at this stage is STICKY!
Sprinkle a little additional flour on top of the dough and hand knead just a few times until you can form it into a smooth ball
Place the dough ball into an oiled bowl.  Cover with tight fitting plastic wrap and cover with a kitchen towel.  Set aside to rise for one hour
After your dough has doubled in size, punch it down.  If you're planning on making multiple small pizzas with this dough, divide it up at this stage.  Hand knead each portion on a lightly floured surface until you form another smooth ball of dough.  Place this dough on a baking pan lined with lightly floured parchment.  Dust the tops of your dough with a little additional flour to ensure no sticking.  Cover again with plastic wrap and a kitchen towel and let rise for another hour.
Once you're ready to assemble, preheat your oven to 425.  Form out each dough ball into your desired shapes, spreading it gently with just your fingertips in the middle of the dough, being careful not to press out the edge as much as possible – so your get a nice crust.  If you'll be using a traditional Sicilian Pizza Pan, spread the dough out all of the way to the edges of the pan
Drizzle the top of your formed dough with olive oil before adding all of your favorite toppings
Bake at 425 for 12 minutes,  I also like to broil the top of mine to get a little char on my toppings – your choice! Have fun with this one and enjoy!