This is my all time favorite freezer staple! One box of Jumbo Shells will give you about 35 – allowing you to have several fresh and good for you meals stored away for any night of the week! You can fill these shells with just about anything you have on hand. It's a fantastic way to use up all of your remaining fresh veg before they go bad on you.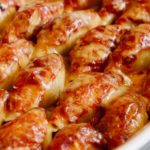 Print Recipe
Stuffed Shells
Ingredients
1

box

Jumbo Shells

15

oz

Ricotta Cheese

1/2

cup

Frozen Peas

(thawed)

1

Zucchini

1

Small Green Pepper

1/2

Onion

3-4

Garlic Cloves

1/2

tspn

Crushed Red Pepper (chili flakes)

1

cup

Freshly Grated Parmesan
Notes
Cook your jumbo shells in heavily salted water for about 11 minutes.  You want them to be underdone as they will finish cooking in the oven.  Drain well and lay each shell out on parchment or a baking tray to cool and dry
Finely dice your onion, garlic and bell pepper
Saute in Olive Oil for about 2 min, just to start to soften them up and bring the flavors together.  Season with salt, pepper and your chili flakes. Remove from heat and let cool.
Using the small side of your box grater, grate the zucchini on top of several layers of paper towels.  Wrap up the grated zucchini in the towel and squeeze out all of the water (you can save this water to flavor soups or add to smoothies too!)
Using a medium sized bowl, combine your cooked onions, garlic, and peppers along with the thawed peas, grated zucchini, parmesan and ricotta. Season with salt/pepper. Gently fold until fully combined.  Taste for seasoning and add additional salt/pepper as needed – you want this mixture to be well seasoned
Using a teaspoon, fill each shell with your ricotta mixture and set them seam side up on a parchment lined baking tray.  This is the stage when you'll want to freeze them.  Place the whole tray of stuffed shells into the freezer for one hour. After they are partially frozen, remove them from the tray and place them into a freezer bag (freezing them on the tray first will prevent the shells from sticking together, allowing you to take as many or as few as you want on the day you want to bake them).
Baking:
Remove your desired amount of shells from the freezer and thaw in the fridge. 
Once you're ready to bake, preheat your oven to 350.  Coat the bottom of your baking dish with your favorite jarred marinara sauce.  Lay the shells seam side down on top of the sauce.  Spoon a little more sauce over the top of each shell and cover the tops with your favorite cheese.  Cover your baking dish with foil and bake for about 20 minutes.  Remove foil and broil the top until your cheese gets nice and golden.