Isn't chili so great?! I love it because it's 100% customizable and you can have a different variation each time you make it. You can serve it over rice or pasta…use it for a chili dog or burger…add it to a cheese sauce for an awesome chili mac or just enjoy it as is – which is how I like it!
This chili recipe is full up on spice and really packs a punch! I like to serve it with cooling avocado and a wedge of lime. Delish!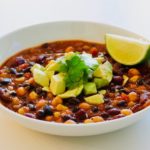 Print Recipe
Spicy Three Bean Chili
Ingredients
1/2

Onion

(diced)

1

Green Bell Pepper

(diced)

1

Red Bell Pepper

(diced)

4

cloves

Garlic

(finely minced)

6

oz

Tomato Paste

1

Chicken Bouillon Cube

2

tbsp

Chili Powder

2

tbsp

Cumin

1

tspn

Cayenne Pepper

2

cups

Chicken Stock

1/2

cup

Water

1/2

cup

Corn Kernels

1

can

Kidney Beans

(drained and rinsed)

1

can

Black Beans

(drained and rinsed)

1

can

Garbanzo Beans

(drained and rinsed)
Notes
Heads up – This one's spicy!  If you're not a big spice fan, reduce or omit the Cayenne Pepper
Coat the bottom of a stock pot or dutch oven with Olive Oil
Saute your onion, garlic, green and red bell pepper, along with salt/pepper to soften
Add your tomato paste, bouillon, chili powder, cumin and cayenne pepper, stirring frequently for about a minute
Add your chicken stock and water and stir to combine
Simmer for about 10-15 minutes
Add your corn and beans into the sauce and simmer for another 5-10 minutes
Taste for seasoning and add salt as needed
Serve up your chili with some shredded cheddar, a dollop of sour cream or some diced avocado and a wedge of lime.