These are simply amazing! They can be incredibly inexpensive and you can fill them with anything you like! I prefer to stuff them with my Spicy Black Beans recipe, with cheddar cheese and avocado on the side.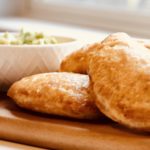 Print Recipe
Baked Empanadas
Notes
Preheat your oven to 425
Roll out your pie dough, thin
Cut out 5″ circles (I use a ramekin to measure, you can also use a small bowl)
Brush egg wash to the top side of the entire circle
Add about 1 heaping tablespoon of filling to the bottom half of your circle (be careful not to overfill)
Fold the top portion of your circle over your filling.  Using a fork, crimp the edges of your Empanada together
Transfer each assembled Empanada to a parchment lined baking sheet
Brush all assembled Empanadas with egg wash
Note: I usually roll and cut my pie dough ahead of time.  I place the cut circles on floured parchment paper before placing them in the fridge to chill.  Your dough will warm up and soften a bit too much by the time you get it all rolled and cut.  Using chilled dough will be easier to assemble your Empanadas.
Bake Empanadas at 425 for 20-25 minutes, or until golden brown.  Serve with a side of guacamole and enjoy!